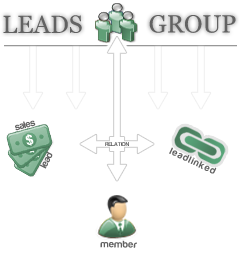 What is a Networking Group?
LeadLinked is designed to manage networking organizations of all different sizes and structures.

The goal of most networking groups is to generate new business for its members. However, referral exchange and revenue generated by participation in these groups are often much lower than desired. LeadLinked software offers a method to increase leads and revenue generated from networking group involvement.

If the purpose of your organization is to create new business for its members, then LeadLinked is the only complete source for your group's online management. Here are a few organizations that benefit from utilizing LeadLinked:

Leads Groups

Leads Groups are networking organizations made up of professionals from different industries that assemble to share qualified business referrals with one another.

Leads Groups reserve an exclusive position for an individual in each profession (this is to ensure that no one within the group is in direct competition). Every member in the chapter has their own network of friends, family, co-workers, and acquaintances. As members of the group go throughout their personal and professional life, they encounter people in their network that will require the services of their fellow lead group members. By connecting people in their network with members in the group, warm referrals are shared and revenue is generated. Once established in a Leads Club, each of the members becomes a walking ambassador for your business.

Although this form of networking can be extremely effective, often attendance and referrals generated remain low. Incorporating LeadLinked into your leads club is the key to establishing accountability and increasing overall productivity.

Chamber of Commerce

Historically the local Chamber of Commerce has been the go-to organization for small business owners to network and grow their business. Membership in the right chamber can be very beneficial; however the majority of chamber websites do not generate business for their member via the internet. Integrating LeadLinked into the chamber website will increase the amount of leads chamber members receive from online search and referrals passed between members. The increased revenue chamber members receive from utilizing LeadLinked software will help Chambers to retain current members and recruit new ones.

Alumni Associations

Alumni organizations are developed with intentions to assist graduates of different institutions in staying in touch, sharing business, helping new graduates, and keeping informed about the current status of the institution. Although these organizations are set up for these purposes, the majority of the time, alumni end up fragmented and out of touch. Launching LeadLinked software in your alumni group will motivate members to share business, enhance communication, and help present opportunities to recent graduates.

Lead Linked incorporates a point system to help motivate group members to be active and productive. The members with the highest rolling average at the end of each month will be rewarded with a preferred listing on the public facing business directory.